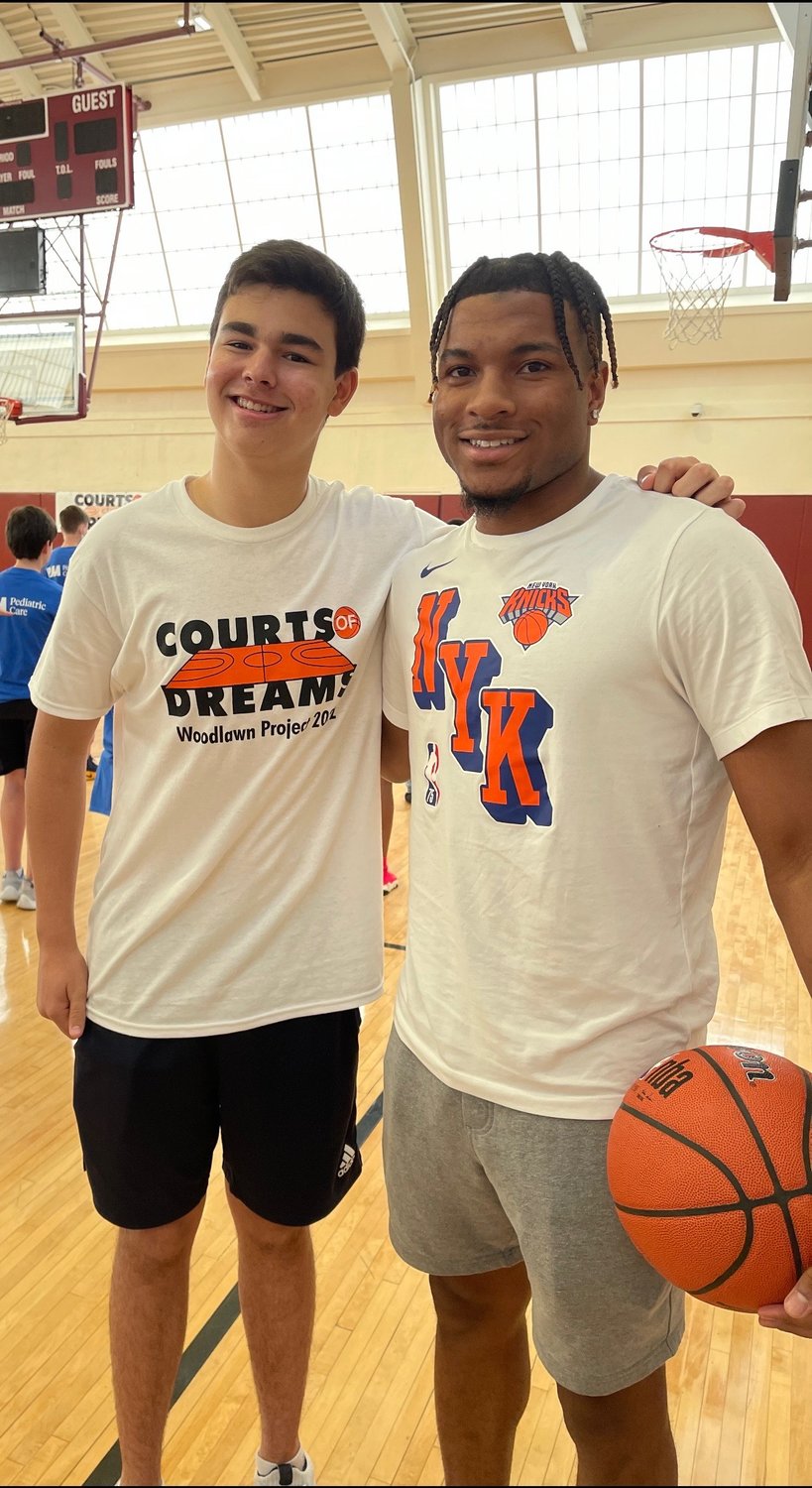 Woodlawn's 'Courts of Dreams' is realized | The Riverdale Press
By PETE JANNY
It's not every day that a New York Knicks player is spotted in Riverdale, let alone on any school's basketball court. But on May 21, they came to help a 16-year-old from Horace Mann School raise money for a local cause.
Danny Cornstein, who serves as Junior Council President of Courts of Dreams, has set a goal of repairing the basketball courts at Woodlawn Playground in Van Cortlandt Park as his next endeavor. Cornstein says the more than $100,000 raised from the event is going to the Van Cortlandt Park Alliance to help renovate the two outdoor basketball courts. The groundbreaking ceremony for the two courts will take place on June 2 before they open in September.
"We found these two pitches that were really run down with cracks in the ground and no nets," Cornstein said.
The Courts of Dreams, which was founded by his parents Marc and Natasha Cornstein in 2008, is a grassroots nonprofit organization dedicated to renovating outdoor basketball courts around New York City. In January, the keys to the organization were bequeathed to Danny, who had an early love of basketball thanks to Marc's career as an NBA agent.
"Our family has been involved in basketball since I was born," said Danny Cornstein. The Riverdale Press. "So being able to combine the great sport of basketball and giving back is so important to my family. Courts of Dreams' goal is to restore basketball courts in underserved communities, especially during COVID-19 (where) they are a safe haven for every child.
It took nine months to complete the festivities. But it was worth the wait for the Cornstein family, who were joined by current Knick Miles McBride as well as former players shooter John Starks and center Samuel Dalembert, who both sit on the advisory board of Courts of Dreams.
"I've always watched the Knicks, so it's so cool to have them here to help us with this event," Cornstein said. "I feel like a Knick."
The event began with a Q&A featuring Starks and Dalembert. Responding to questions from campers, the two former Knicks players fondly recalled their time with the franchise and their individual journeys in the NBA. For Starks, a fan favorite, it was mostly about his legendary dunk on Michael Jordan in Game 2 of the 1993 Eastern Conference Finals, and his relationship with Hall of Famer Patrick Ewing, who he called a "true warrior".
Dalembert, a 12-year NBA veteran, is a former client of Marc Cornstein at Pinnacle Management Corp., a property management company. His connection to the Cornstein family dates back two decades, when Danny was a small child with big dreams.
Dalembert himself is no stranger to philanthropic work – having won an NBA Community Service Award for giving back to his native Haiti after the 2010 earthquake – which makes him all the more proud of Danny.
"It filled my heart with joy to see a glimpse of him wanting to give back," Dalembert said. The press.
"He is an example to all young children that you need to create positivity in this world and give back to your community."
McBride was introduced to guests at the start of basketball drills. Although he only recently finished his rookie season in New York, the former mountaineer from West Virginia accepts being a role model.
"I love working personally with children," McBride said. The press. "I'm very excited and love giving back to the community."
Parents enjoyed the action from the sidelines, while sharing their children's excitement of rubbing shoulders with sports heroes.
"I have great admiration and respect for people who compete at the highest level, so it's an honor to be here and they're thrilled to be here," said Lorenzo Smith, whose two sons participated in the clinic.
It also allowed children to come together to play hoop after a difficult few years caused by the pandemic.
"It's so great to have the community back and it's great for Horace Mann to host Courts of Dreams," Smith said.
Dalembert is the father of four young children who could have been there with him to celebrate Courts of Dreams. But while they stayed home, I
n Florida, Dalembert had a glimpse of the next generation acting in the service of others.
"If you want to see change, you have to be the first to make that change through your actions," Dalembert said.
Cornstein plans some time off over the coming months to reflect on how far he's come.
"This summer is just going to catch my breath after working for nine months," Cornstein said. "We don't want it to end here. We want this to continue and this is just the beginning for us.