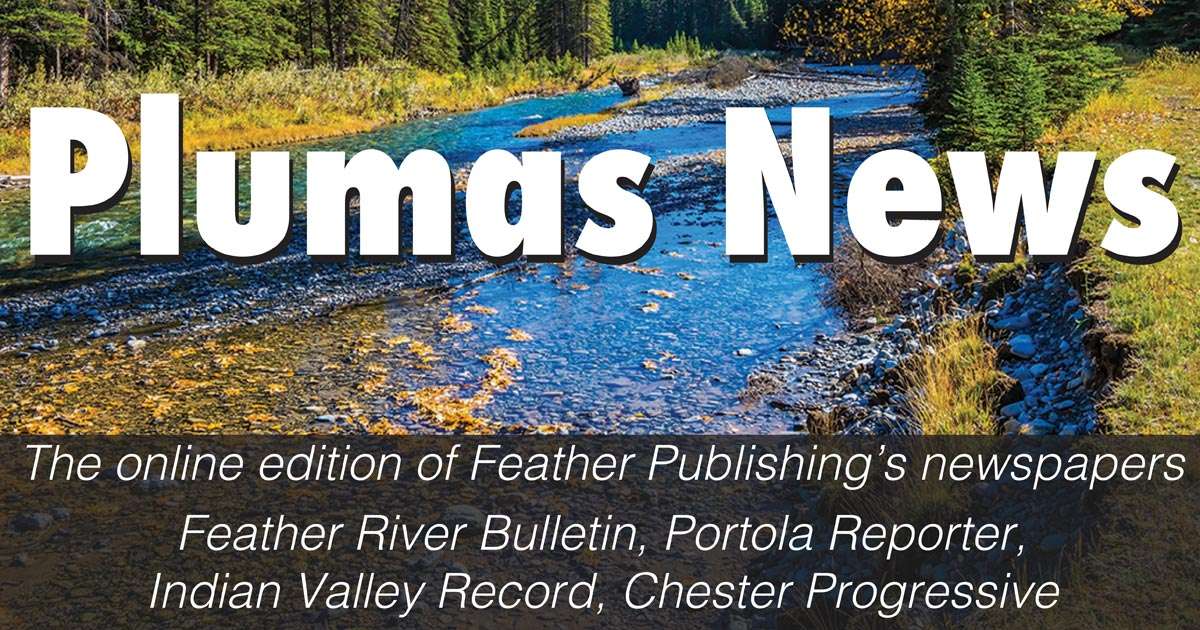 Where I Am: Plumas County Correctional Facility
By Todd Johns
Plumas County Sheriff
I would like to talk about the Plumas County Correctional Facility (PCCF). During this campaign, there has been very little discussion regarding the PCCF by myself or my opponent. Yet this is a vital role within the Plumas County Sheriff's Office and in Plumas County. The PCCF is essentially a small town, which needs logistics to plan for future clothing needs, cleaning solutions, meals, medical care, behavioral health care and rehabilitation programs for those in detention. This has become so vital due to the fact that the State of California has placed the rehabilitation work in the hands of the county. For this, I would like to talk about the many changes that have taken place over the past two years. This is just a small extract of what the FCCP does on a daily basis.
First and foremost, having and maintaining excellent staff at PCCF is important. I can say with confidence that the citizens of Plumas County should be proud of the men and women who work as correctional officers. Our officers are top notch, dedicated to the rehabilitation, safety and security of all incarcerated people. This group of men and women is like a family. They work hourly and volunteer as needed to cover shifts to ensure we always have enough staff. We have five new correctional officers at the institution, two of whom are rehires who had worked at the institution, but for personal reasons had to leave between ten months and two years ago (welcome!).
Then there is staff maintenance, which is accomplished with Standard and Training for Correctional Services (STC) (this is mandated by the state). We have started to train correctional officers with the patrol when possible, to create a team mentality between the two areas. I have correctional sergeants who attend staff meetings; it was never done before my term as sheriff. The knowledge, thoughts and concerns of Correctional Sergeants are important and should be heard by all areas of the Sheriff's Office. Our Medical Director has also been very involved in training regarding disease control, man down exercises, use of Narcan for people who are at risk of overdosing while taking it.
Our Medical Director has worked to obtain accreditation with the National Commission on Correctional Health Care (NCCHC). The NCCHC only accredits facilities that meet national standards. The NCCHC audited the PCCF last fall by reviewing records, medical policies and procedures, and interviewing people in custody and random officers. They gave some suggestions for improvement. We made these improvements and the NCCHC re-inspected our facility a few months ago. I believe that when the NCCHC board meets they will give us accreditation. It is enormous! Accreditation for our small facility is an accomplishment that our medical director, nurses and officers have worked hard for and should be proud of.
The NCCHC also looks at the Behavior Health (BH) side. This is being reviewed by the NCCHC Board of Directors and I believe we will gain accreditation. That's largely down to former BH manager Tony Hobson. In the past year alone, he has worked with our medical director, the prison commander and our corrections sergeant who oversees rehabilitation services. Our Medical Director has worked with BH to improve and develop medically assisted treatment (MAT) for addiction, support recovery and prevent overdose. MAT is the use of medications in combination with counseling and behavioral therapies for the treatment of substance use disorders. The drugs used are adapted to each person's needs. Mr. Hobson has also worked with our prison commander to establish ways to house behavioral health patients in outside facilities that address mental health needs. This has always been a problem because these hospitals did not want to take people in while they were detained. We now have avenues to take to provide these people with the treatments they need.
A release coordinator for people in custody and after custody is being developed. This is a collaborative effort between the Sheriff's Office, District Attorney's Office, Public Health, Social Services, Behavioral Health and the Probation Service. This is an ongoing process, as the discharge coordinator who will report to the district attorney's office is expected to be operational this summer. This is a vital role at the PCCF. Our correctional sergeant who oversees rehabilitation services has done this work in addition to his own duties. This work consists of involving people in detention in programs to better understand their needs, acquire new skills (culinary for example), develop a plan for release (employment, housing, continuation of treatment). There are many different avenues to follow with people in custody regarding: did they have a job before? do they need a new set of skills? or just completing programs, working inside the institution to become who they want to be again. After some time inside the facility, many inmates are usually ready to return to work. When ready, they can be released on electronic monitoring while continuing to be monitored, as well as on work release (released to go to work and then back to the facility if on leave). Many options are available, a sergeant is watching this now. Having the leave coordinator will add more support and supervision when these people are released. The ultimate goal is to release people from custody who can become productive in and with society. Interdepartmental collaboration is huge in making rehabilitation a success, and we have begun and maintain an open working relationship with the District Attorney's Office to make this happen.
Advertising
One final thought I would like the citizens of Plumas County to know. During the Dixie fire, our correctional staff went above and beyond. For example, they organized meals for LEMA officers by expanding the culinary program. They planned meals for months, ordered supplies for those meals, and through the culinary program, cooked and served meals between July and September (about 160 meals a day). The men and women did so with pride, knowing that they were helping our communities. We had people in custody who were helping with this detail of work. These people did it with pride, being in detention was the only way for them to help their communities and they felt very helpful, which they were. The thing is, these people are part of this community and it showed in every meal they cooked and the pride on their faces. Prior to the Dixie fire and in the present, I regularly stop by the PCCF, walk around the facility, and work closely with our prison commander and our corrections sergeant who oversees the rehabilitation side at the PCCF. The upgrades inside the facility are excellent and this is due to the amazing staff at FCCP.
I ask if any of our citizens who know a corrections officer or sergeant in Plumas County, please take a second and say thank you for going above and beyond in the care and treatment of those in custody.