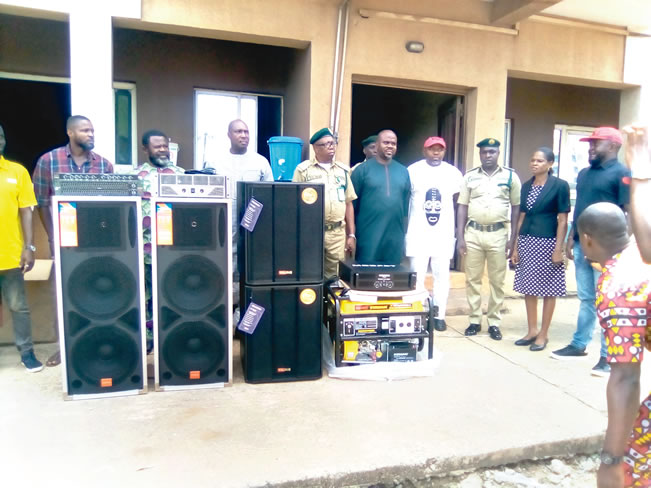 NAS donates musical ensemble to Delta Corrections
The Nigerian Corrections Service in Delta State has been bolstered with a donation of musical instruments and power generators worth about 2 million naira.
The donor, the Asaba Chapter of the National Association of Seadogs (NAS), also known as the Brotherhood of Pyrates, said the musical ensembles would not only create an atmosphere of renewal, but also help inmates learn skills in music.
Section President Emeka Okolo said, "There is still life after leaving the prison environment as prisoners are given a second chance to integrate into society.
"The gesture is part of our community service to the people. Growing up, we used to have a prison band, like the police band. We believe that some inmates will, through this, acquire musical skills.
Upon receiving the musical items, a delighted Delta Corrections Comptroller, Friday Esezobor Ovie, expressed his gratitude to the band for fulfilling their promise made last year to provide musical instruments to the command.
"I am impressed by this gesture. It made me believe that we are not left alone in the rehabilitation and reintegration of our inmates into society.
"On behalf of the Comptroller General, I receive the items from you and this would be used for the needs of inmates and command staff."
He called on groups, institutions and individuals to show goodwill towards the rehabilitation of inmates after serving their sentences.
Earlier, Ovie spoke about the place of music in the five state correctional facilities Agbor, Ogwashi Uku, Warri, Sapele and Kwale which have talented (inmate) musicians, saying that "any job without play makes Jack a boring boy".
He said the Correctional Service had created space for inmates to improve their educational effectiveness, adding that "for example, in Warri, we enrolled 22 inmates for the General Certificate of Education (GCE) and those who could not are skilled in sewing, hairdressing, shoemaking, carpentry, among others.
"We have created a mini bakery…all we do is ensure that the vision of Nigeria's Correctional Service is realized."
Ovie said he was pleased with the steady progress made by inmates in the state in particular and the country in general.
"One of our inmates in the state wrote GCE and had his papers, today he is a lawyer," pointing out that both in and out of state some have doctorates, pastors and imams, among others.