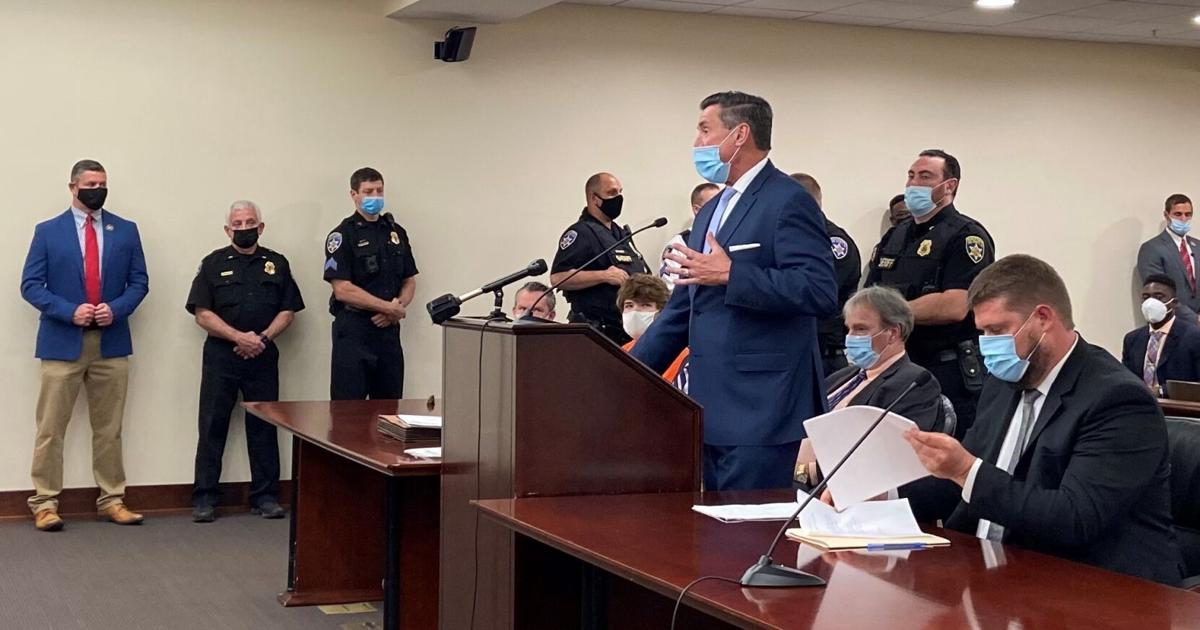 Lawyers for accused Tops killer seek court order to silence DA about case | Crime News
Defense attorneys for the man accused of killing 10 people in Tops Markets earlier this month want a judge to order Erie County District Attorney John Flynn to stop making public statements about the case.
Lawyers for Payton Gendron, a self-proclaimed white supremacist, have asked Buffalo City Court Chief Judge Craig D. Hannah to bar the lead county prosecutor and his assistant prosecutors from making comments outside of legal proceedings because of the potential to taint the jury panel.
"Given the nature and extent of the publicity that has been attached to this case thus far, we are gravely concerned that when the time comes and it is necessary for a jury to be selected and to preside over the trial of Payton Gendron, our client, that this body of jurors will be tainted and poisoned in such a way that it will be impossible for them to get a fair trial," defense attorney Robert Cutting said in court Wednesday.
While many other public officials have commented on the case, Flynn's responsibilities "are beyond those of your average elected official" as he is involved in the legal process, Cutting said.
Cutting said the district attorney has made no "objectionable" comments since Gendron's May 19 court appearance.
Hannah did not make a decision at Wednesday's hearing. The judge said he expected to issue one in about a week. But he ordered prosecutors and defense attorneys to refrain from speaking publicly about the case until the parties meet to discuss guidelines for future public statements.
Flynn, who does not usually appear before judges during hearings, was in court to argue against the defense motion.
Flynn asked the judge to deny the motion, but he said he would accept an alternative presented by the defense for a dialogue with the judge about what constitutes appropriate public comment regarding the criminal case as it unfolds. its course.
Flynn told the judge that the defense request "is really a moot point." Flynn said he may make one more public comment on the case before it ends — during a possible arraignment of Gendron on a potential grand jury indictment.
During Wednesday's motion hearing, Gendron wore standard orange prison attire and a white face mask as he sat next to his lawyers in court.
In court documents, attorneys for Gendron pointed to two statements made by Flynn in the days following the May 14 massacre. In court on Wednesday, Cutting said that while the documents only included two examples, "there could probably have been several more that were included."
The defense request essentially applies only to Flynn, as assistant district attorneys are prohibited by office policy from speaking with the media.
Gendron, 18, has been charged with first degree murder in the Jefferson Avenue grocery store mass murder.
Flynn's first comment cited by the defense came during a press conference two days after the attack about the defense team's withdrawal of a request for a psychiatric evaluation, known as a review forensic.
According to court filings, Flynn said, "I don't need to ask for it myself, so I'm not going to ask for it. The judge has the capacity – sua sponte – on his own, for those who He didn't feel the need to, so the forensic part of mental health has now become a moot point and is now irrelevant."
The defense team, led by Brian K. Parker and also including Daniel DuBois, described the comment in court documents as "inaccurate and deeply prejudicial."
Flynn told the judge the comment was taken out of context and only referred to any mental health issues that weren't on the table "right now."
The second statement attributed to Flynn came during an interview on Fox News, in which defense attorneys claim the district attorney suggested their client had committed several crimes for which he has not been charged.
In its response, the district attorney's office said the defense motion "contains no explanation of how or why this statement should be considered inappropriate."
Flynn told the judge he was only outlining the contents of publicly available statutes and that his office "generally reviews them."
Flynn also said he had publicly stated that Gendron was now simply accused and should be presumed innocent.
Reach Aaron in Abesecker[at]buffnews.com or 716-849-4602.